Robert H. Dickey, O.D.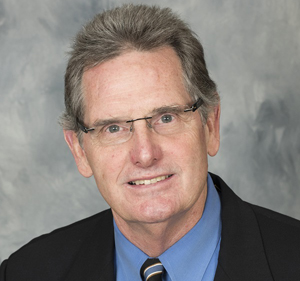 "I now have all A's and B's on my report card, I got my driver's license, or I can see to read my Bible." These are some of the responses I hear regularly from my patients. Not only do we help people perform better in their everyday lives, we get to know their families. When I moved to Waynesville 14 years ago I know very few people. My profession and association with Mountain Eye Associates have given me a vehicle to become a member of your community. Now when I see you at the grocery store I know you, your family, and friends. I enjoy these relationships.
After my basketball dreams were shattered in college due to a broken bone, I asked my Dad the dentist what should I do with my future? He replied, "Would you rather look down their throat or at their blue eyes?" Because of a birth injury to my right eye, I have always had uncorrectable vision and an interest as to why I could not see well with that eye. No one ever explained to me why my vision was blurry. The advice from my Dad and my vision problem set the course of my professional career.
One of my practice goals is to help you understand why you see like you do, how your general health affects your eyes, and what is going to happen with your eyes in your lifetime.
My wife, a high school biology teacher, and I enjoy our dog Winston, working in the yard, and going to see our first grandson who lives in Charlotte. My son, Ryan, and I like to go fishing, play golf, and snow ski.
I am a member of the Western North Carolina Optometric Association, have served on the Haywood County Board of Health, and a past president of the Black Mountain Chamber of Commerce.